"Old World Craftsmanship with New World Technology"

We are located on Bilby Street in the North End of Halifax, close to the historic Hydrostone Area.
Bilby Street runs perpendicular from Gottingen Street to Robie Street, just one street North of Almon Street.

PLEASE CHECK THE HOMEPAGE FOR COVID19 INFORMATION ADVISORY
You can`t miss us, it is the big Blue building with Black Iron Fence!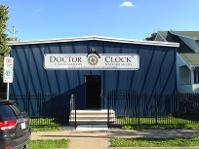 Halifax,

Nova Scotia

B3K 1V6
5656 Bilby Street, Halifax, Nova Scotia, B3K 1V6 T. (902) 422.1307 F. (902) 455.7541 info@doctorclock.com
Monday- Friday 8:30am-3:00pm Closed Saturday & Sunday